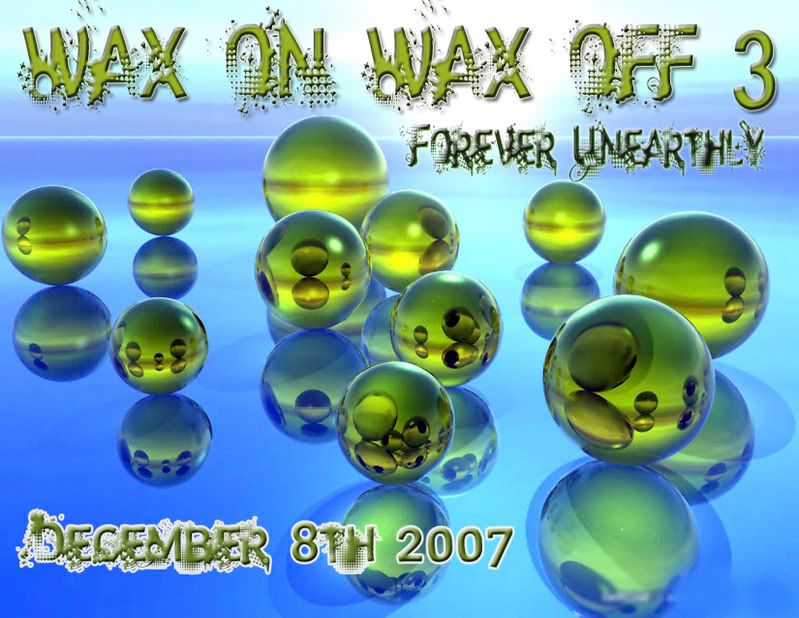 COMING TO YOU DECEMBER 8TH 2007:
A BENEFIT PARTY FOR OUR FRIEND BRAIN FROM UNEARTHLY! FOR YEARS HE BROUGHT US GREAT EVENTS AND THIS LEGENDARY BENEFIT PARTY NAME IS FOR HIM IN HIS HONOR! COME OUT AND ENJOY THIS BRAND NEW VENUE WITH US TO ALWAYS REMEMBER, THATS ITS FOREVER UNEARTHLY!
NEW VENUE:PLASMA TVSHIGH CLASS RESTROOMSAIR CONDITIONING
NO DUSTY WAREHOUSE!
BRAND NEW FLOORS AND CURTAINED WALLS! (PLEASE DONT DAMAGE THEM LOL)
IT HAS BEEN DECIDED TO USE THIS VENUE FOR A RAVE BEACAUSE IT IS ALL LEGAL AND WHY DONT WE DESERVE TO HAVE SOMETHING LIKE THIS. IF WE TAKE CARE OF IT, IT WILL DEF TAKE CARE OF US! YOU SAW THE VENUE AND LOVED IT AT BLUR SO WE ARE BRINGIN IT BACK TO U YET AGAIN!!
Info Line: 480 280 2194
STAGE 1
9-10 SID
10-11 MATTHEW HARRIS
11-12 PAC D
12-1 NYTUS
1-2 RULE ELEVEN
2-3 SAMIZZLE
3-4 CUBAN
STAGE 2 MAIN STAGE
9-930***ITS A SURPRISE!! WAIT AND SEE!!**
930-1030 ERNIE GROOVE
1030-1115 SILENT J
1115-1130 AUSPEX
1130-1230 RICHARD ANTHONY
1230-2 THE ENCODER
2-3 FADER
3-4 MATTY
STAGE 3 DEDICATION TO THE HARDCORE
9-10 GREM
10-11 PHOX
11-1115 BLAZIE D
1115-1230 DR MD
1230-130 DJ SKYE
130-300 MAYHEM